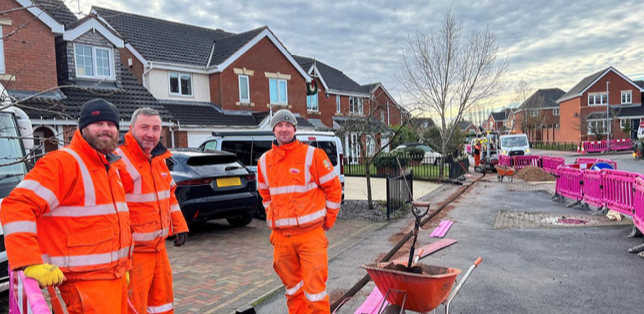 Zzoomm Full Fibre broadband is now connected to the first homes in in Crowthorne with Sandhurst and surrounding areas set to receive Full Fibre imminently.
Zzoomm are providing a brand new broadband infrastructure, separate from the old copper network, that allows homes and businesses to future proof their homes with Full Fibre.
With services starting from £29, Zzoomm are providing Full Fibre broadband that's accessible to everyone.
Zzoomm thanks residents for their patience and support as they continue to build futureproofed Full Fibre in the area.
1st March 2022, Zzoomm, the Full Fibre broadband network, has announced that the first customers in Sandhurst and Crowthorne are now live and receiving brilliant broadband speeds. Zzoomm is building and now running an independent and ultrafast network separate from other providers such as BT, TalkTalk and Sky. Because of this, Zzoomm is able to offer completely symmetrical download and upload speeds, which means effortless connectivity across every property, from streaming live sports to crystal clear working from home calls. As Full Fibre brings the connection all the way to your front door, Zzoomm is able to offer significantly faster speeds than traditional broadband providers, which range from 150 – 2000Mbps for homes, and up to 10,000Mbps for businesses. Local resident, James Banfield is excited to experience the full force of Full Fibre:
"Full Fibre to us means that we will be able to manage our smart home as it was originally intended without interruption, and without having to consider whether to turn on our games console whilst someone is using a laptop or mobile device"
From Alcot Close to Newmarket Road, these are just a few of the first customers on the map to become covered with the Full Fibre network as of this week. As the expansion of the network build in Sandhurst and Crowthorne continues at pace, the number of homes and businesses that can receive Full Fibre will surpass 10,000 properties by the end of completion.
Commenting on the network build, Sandhurst and Crowthorne's Full Fibre Team Leader and local resident, Tony Hooton, said:
"I've been a resident of Sandhurst since leaving the army 5 years ago. Alongside teaching, my wife runs her own online business. With her working from home, it's been nearly impossible to get anything done with our current BT broadband dropping connection all the time. I know just how much Zzoomm's Full Fibre network will make a difference for my wife, as well as my neighbours, who have all seen my brightly branded Zzoomm van outside the house and are waiting to get connected!"
Echoing the customer demand for better connection, Matthew Hare, Zzoomm's Chief Executive said,
"The construction of our brilliant fast network in Sandhurst and Crowthorne is a watershed moment for homes and businesses. The old copper network in the area used by their current providers holds them back.
For the first time, homes and businesses in the area will have a choice of network. And what a choice: choose our a brand new full fibre infrastructure that that is totally fit for your future and will blow you away"
With prices starting from £29pm for 150Mbps, Zzoomm is passionate about building a network that is accessible to everyone. There are no installation or connection costs, so switching to a superior broadband service is quick, simple and straightforward. Zzoomm's services come with 24/7 UK customer service and effortlessly brilliant Wi-Fi.
To switch to Zzoomm, residents of Sandhurst and Crowthorne are welcomed to speak to one of our customer experts today by calling 0333 311 9933, emailing hello@zzoomm.com or simply order online at zzoomm.com.
Enquiries:
Zzoomm plc.
Chris Collinson, Chief Commercial Officer
Tel: 07977 246661
Email: chris.collinson@zzoomm.com
Louise Eastell, Content Manager

Email: louise.eastell@zzoomm.com
Note to editors:
About Zzoomm PLC (Zzoomm / Twitter / Facebook / LinkedIn / Instagram / YouTube)
Zzoomm is expanding this Full Fibre service to market towns across the UK with ambitions to pass 1 million properties over the next five years. Zzoomm completed the build of its first town Henley- on-Thames in 2020 and has started construction in Hereford, Thirsk, Cannock, Crewe, Sandhurst, Crowthorne, Northallerton and Easingwold.
Full Fibre networks run fibre cables directly into each home and business they serve. Zzoomm's Full Fibre broadband service provides next-generation multi-gigabit speeds of up to 10Gbps (10,000Mbps). Zzoomm's services start at £29 per month including VAT for 150Mbps home broadband. Business services start at £39 per month ex VAT. Zzoomm also delivers Enterprise services over dedicated fibre connections for larger businesses.
Zzoomm was founded in December 2018 by experienced fibre network entrepreneur Matthew Hare OBE. Matthew previously founded ultrafast rural fibre broadband provider Gigaclear in 2010, which was acquired by Infracapital in 2018 for £270 million.